Hello again lovelies on a roll tonight with the posts but will be the last one of the night as i am about to attempt the 30 day shred again! Eeek.
So just a quick one of the youtubers and bloggers i love, there are a few so here goes.
Sprinkle Of Glitter - Louise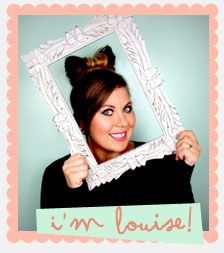 Aloha! I'm 25, married and have a gorgeous baby girl. I am a lover of cosmetics, sparkly gems and interior designs. Come on in, the water's fine! x
Email:
louise.pentland@hotmail.co.uk
Her youtube channel is ; SprinkleofGlitter
Blog
What I Heart Today - Lily Pebbles
Her youtube channel is; WhatIHeartToday
Blog
Dolly Bow Bow - Kate
Her youtube channel is; DollyBowBow
Blog
Zoella - Zoe

Her Youtube channel is; Zoella
Blog
Miss Budget Beauty - Khi
Her youtube channel is;
MissBudgetBeauty
Blog
Essie Button - Estee
Her youtube channel is; EssieButton
Blog
Gemsmaquillage - Gemma Tomlinson
For some reason it's not letting me onto her blog but
her youtube channel is; Gemsmaquillage
Blog
Beauty Crush - Sammie
Hi im Sammi, a 23 year old girl from London who logs her personal style and beauty interests here on this blog and who also makes videos on youtube. I'm a fashion styling graduate with a penchant for photography and for seeing the world.
Her youtube channel is; Beautycrush
Blog
Vivianna Does Make up - Vivianna
Her youtube channel is; ViviannaDoesMakeup
Blog
I love reading there blogs and watching them regularly on youtube i actually i get a tad excited when each of them uploads a new youtube vid! Is that sad of me lol?
Well i don't mind haha, each to there own. I enjoy a lot more youtubers eg, pixiwoo, tanyaburr, pointlessblog, athriftymrs etc but blogs and youtubers together these are my favourites. What blogs do you love?